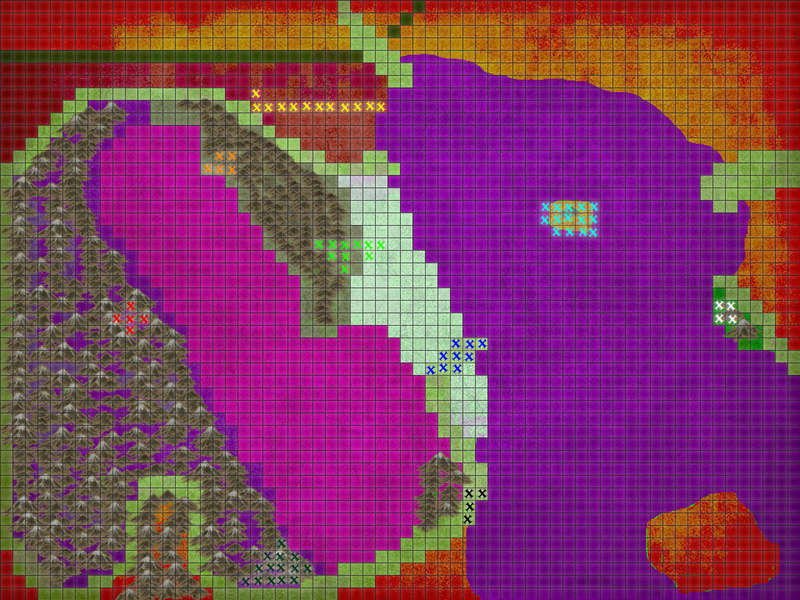 Spring has come, and harvest season has begun.  House Chlothar sought to attack Laventino but the armies refuse to budge from their castles.
Lord Heinrich of House Lannore announces that his daughter is of age to marry and ready to bear children.
Arcacius:

There are rumors of discontent over Arn Segal's 'unjust' punishment.  Where they originate from is unknown.
Crensler:

Your agents have discovered that Nestav found a most incredible blade in one of the upper floors of the ruin; a blade that has retained its sharpness over the centuries.  The ruins are also filled with undead.

The agents learned of Nestav gaining the loyalty of two neighbor Houses, and an alliance with a third.  This has unsettled the surrounding polities who eye the ruins with furious envy.

Trade has begun into the Korny region.  You gained 1 Wealth from trade.
FreelanceZero:

Houses Cyneburg (led by a 12-yr old boy) and Hidegard (led by an 18-yr old lady) both pledge loyalty to you.  House Hidegard sends as a hostage to you their Master-of-the-Coin seeing as how their last living member is currently ruling.

House Isabjorg (and banner house Hakon) agree to a military and trade alliance.

You receive envoys from House Geirmund.
greywolf:

Lady Frida produces a written manuscript of the meeting when the murder took place.

relevant section:

LORD: "On to the pressing matter that I called you all here for: this 'evidence' that Lord Heinrich brought to my court.  It accuses me of conspiring to have him assassinated."
worried expressions on everyone's face
CAPTAIN: "Surely he cannot believe such slander!"
LORD: "He is...and he is demanding my head."
"What!?  He can't be serious!"
LORD: "I'm afraid he is.  He said I either give him my head or he will take all of ours.  I will comply with his wish."
CAPTAIN: "You can't milord.  He'll strip us of our power and take control of everything we possess."
LORD: "There is no denying that...not after that decree he forced us to accept last month.  But, this is the only way any of us can live."
LADY FRIDA: "Why is he doing this?  We've served him faithfully and loyally for a century now.  Why is he deciding to turn tyrannical on us?"
LORD: "Enough daughter.  This has to be done for you to be safe."
CAPTAIN: "Milord, I don't think any of us will be safe after your passing.  If Lord Heinrich Lannore is already dealing us in bad faith and treating us with ultimatums, then I shudder to think how we'll be treated when we're powerless."
LORD: "And you have another idea?"
CAPTAIN: "Yes, milord.  One that will save you from having to commit suicide." He stands and walks towards the Wulfen Lord, unsheathing his blade.  He stabs the Wulfen Lord in the heart before anyone could react.  "Your hands won't be stained in front of Archiphot for this, milord.  But, I will ensure your House survives...and free from the yoke of Lannore tyranny."

Scouts prowl Runelight's lands for any sign of hostiles.  There are none for now.  The rest of the troops are in position and ready to strike.
JaxVaeus:

The depleted ranks of those units hardest hit were refilled by volunteers answering the call to arms.  House Wulfen has made no moves into your territory.

4 turns for the Hamlet to be complete.  10 turns for the University to be complete.  13 turns for the rings to be forged.
Spartanmario:

Your attempts to contact Laventino authorities is stymied by court-appointed diplomats.  They come off as rude, stand-offish, and exceedingly full of themselves.  The presiding Moderator, on the other way, when he learned of your arrival had your diplomats immediately brought to him.  He is eager to visit the island when he settles into his new position.

Your diplomats to Chu ran across more of Laventino's 'court-appointed' ambassadors.  The air in the Chu Court became increasingly hostile and tense whenever they were present.  Without their presence you were able to befriend Chu's ruler, Fang Hai.  He promised you exclusive use of a trade town on his coast as well as a promise to defend you against any hostile acts.

You gain 3 Wealth from trade.  4 turns for the Marketplace to be complete.  12 turns for the University to be complete.
Zeiss:

Assessments have been completed.  The winding road down the side of the serpent will take 128 turns to complete (at the cost of 2 Wealth).  The lift system will take 240 turns to complete (at the cost of 3 Wealth).

Troubling news comes in from the Venom League.  Your friend and ally there, Arn Segal, has been placed under house arrest (for the crime of treason) by the head of the League.


Last edited by SilverDragonRed on Sun Jan 15, 2017 7:57 pm; edited 1 time in total