Everyone post your concept here for approval and/or adjustment. Here is an example:
Governor: Admiral Edmund Arkanis.
Born in 34BBY, He watched holovids of the clone wars and became enthralled with the Navy. Signing up as soon as he was of age, he quickly rose through the ranks until he had seen many planets and twice as many ships. Because of this, he is a man of many words. Most of which are ways to buy time. One would not call him a coward, rather someone who will buy time in order to better destroy his opponent. After the destruction of the Death Star, he arrived in the Rostoak stem in via the Reign of Fire, the ship he was commanding at the time, and answered the Grand Moff's call. He spent several days making friends and forming connections that ultimately set him up in the area. It was this tactic which made it easy for him to rise to the rank of governor through sheer charisma. Swiftly taking the mantle of governor he went about reorganizing the local bureaucracy into something he views as more efficient.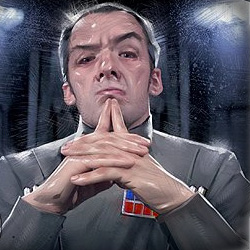 Sector: Rostoak, Northern part of the system near the border
System: Savoy
System Layout
Savoy: Yellow sun.
Tanniv: Green gas giant with 4 rings primarily used for mining. 6 moons which provide the sole habitation for the system.
Moon 1: Verrith. A bleak, asteroid blasted moon with no way of supporting life.
Moon 2: Ton'ta. The Capital of the system. Few cities dot this jungle world. Primary exports are men and materials. Imports are Luxury goods and food.
Moon 3: Ymgarl, This world is mostly plains and used to grow food.
Moon 4: Lorram, This world is the 'shipyard' of the system, it is covered in industry.
Moon 5:Terris, An airless void with a few dotted settlements that is primarily mining based.
Moon 6:Terris II, A harsh desert world with little to no value.
Population:
140 million
Human- 82%
Twi'lek- 10%
Togruta- 3%
Mirialan- 3%
Chiss- 2%
Fleet Summation:
1 Venator-Class Star Destroyer: Reign of Fire
Complement: 70 ARC-170s, 40 TIE/sa Bombers, 20 LAAT/i's, 50 TIE/LN starfighters, 30 TIE/IN starfighter, 50 TIE Heavy Bombers, 160 Z-95 Headhunter.
1 Goliath Carrier
5 System patrol frigates, Not lightspeed capable.
Ground Forces:
300 Men/Militia forces (20 of which are stormtroopers)
60 AT-ST's
30 Speeder Bikes
3 Command AT-ST
20 Stormtroopers
------------------------
This was written quickly. Medium amounts of detail, but all the basic information needed. It is encouraged that players include more detail than this but is not required.