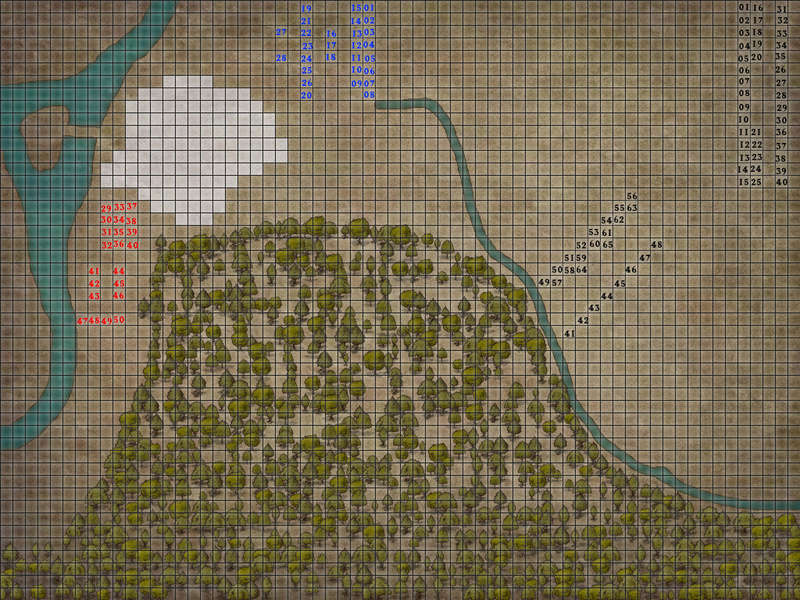 North Composition:

[01-15]Infantry, Trained (DM+6) Defence=6{Armor=3}, Morale=12{Endurance=4}, Fighting=2, Base Damage=5
[16-25]Archers, Trained (DM+9) Defence=9{Armor=2}, Morale=6{Endurance=2}, Fighting=2, Marksmanship=4, Base Damage=1//8
[26-30]Engineers, Trained (DM+9) Defence=5{Armor=2}, Morale=6{Endurance=2}, Fighting=2, Warfare=8, Base Damage=1
{Armed with Small Steam Cannons} Base Damage=5
[31-40]Engineers, Green (DM+12) Defence=5{Armor=2}, Morale=6{Endurance=2}, Fighting=2, Warfare=4, Base Damage=1
{Armed with Small Catapults} Base Damage=3
[41-48]Cavalry, Veteran (DM+0) Defence=5{Armor=5}, Morale=6{Endurance=2}, Fighting=5, Base Damage=7
[49-65]Cavalry, Trained (DM+3) Defence=7{Armor=5}, Morale=6{Endurance=2}, Fighting=2, Base Damage=7
[C1]Commander, Green Defence=3{Armor=6}, Morale=6{Endurance=2}, Fighting=2, Command=2, Warfare=4, Base Damage=3
{With Infantry[8]}
[C2]Commander, Green Defence=3{Armor=6}, Morale=6{Endurance=2}, Fighting=2, Command=3, Warfare=3, Base Damage=3
{With Engineers[28]}
[C3]Commander, Green Defence=3{Armor=6}, Morale=6{Endurance=2}, Fighting=2, Command=3, Warfare=3, Base Damage=3
{With Cavalry[52]}
Allied Composition:

Nestav:

[1-2]Infantry, Trained (DM+6) Defence=6{Armor=3}, Morale=12{Endurance=4}, Fighting=4, Base Damage=5
[3-6]Infantry, Trained (DM+6) Defence=6{Armor=3}, Morale=15{Endurance=5}, Fighting=3, Base Damage=5
[7]Mercenaries, Trained (DM+9) Defence=6{Armor=4}, Morale=18{Endurance=6}, Fighting=4, Base Damage=5
[8]Personal Gaurd, Elite (DM-6) Defence=7{Armor=6}, Morale=21{Endurance=7}, Fighting=7, Base Damage=7
[9]Archers, Trained (DM+9) Defence=10{Armor=2}, Morale=6{Endurance=2}, Fighting=2, Marksmanship=6, Base Damage=1//7
[10-15]Archers, Green (DM+12) Defence=7{Armor=2}, Morale=6{Endurance=2}, Fighting=2, Markmanship=2, Base Damage=1//4
[16]Nobles, Green (DM+6) Defence=3{Armor=6}, Morale=9{Endurance=3}, Fighting=3, Base Damage=3
[17]Personal Guard, Green (DM+3) Defence=4{Armor=6}, Morale=9{Endurance=3}, Fighting=2, Base Damage=4
[18]Mercenaries, Green (DM+12) Defence=5{Armor=4}, Morale=15{Endurance=5}, Fighting=2, Base Damage=4
[19]Cavalry, Trained (DM+3) Defence=6{Armor=5}, Morale=6{Endurance=2}, Fighting=4, Base Damage=5
[20]Cavalry, Trained (DM+3) Defence=6{Armor=5}, Morale=6{Endurance=2}, Fighting=5, Base Damage=5
[21-26]Cavalry, Green (DM+6) Defence=4{Armor=5}, Morale=6{Endurance=2}, Fighting=3, Base Damage=5
[27]Engineers, Trained (DM+9) Defence=5{Armor=2}, Morale=12{Endurance=4}, Fighting=2, Warfare=6, Base Damage=1
{Armed with Scorpions} Base Damage=3 (Ig AR)
[28]Engineers, Elite (DM+3) Defence=5{Armor=2}, Morale=21{Endurance=7}, Fighting=5, Warfare=10 Base Damage=1
{Armed with Centipedes} Base Damage=1 (Ig AR)
[C]Edward von Keller Defence=3{Armor=10}, Morale=6{Endurance=2}, Fighting=6, Command=7, Warfare=7, Base Damage=3
{With Personal Guard[8]}

Isabjorg:

[29-40]Infantry, Trained (DM+6) Defence=6{Armor=3}, Morale=12{Endurance=4}, Fighting=4, Base Damage=5
[41-46]Archers, Green (DM+12) Defence=7{Armor=2}, Morale=6{Endurance=2}, Fighting=2, Markmanship=2, Base Damage=1//4
[47-50]Cavalry, Green (DM+6) Defence=4{Armor=5}, Morale=6{Endurance=2}, Fighting=3, Base Damage=5
With a night raid against the enemy camp Nestav was able to burn their food stores and kill two of the commanders.  Before it could be taken advantage, the enemy marched out on reports of a coalition army from the south.  That allied army was smashed to pieces inflicting only 3,000 casualties at the cost of 23,400 of their own.  The triumphant enemy returns to find Nestav (with Isabjorg allies) at their camp.
The enemy is blocked by a cliff too steep for them to ride down.  The sky is cloudless with barely soft ground underneath.
OOC wrote:Each square represents 20 yards.