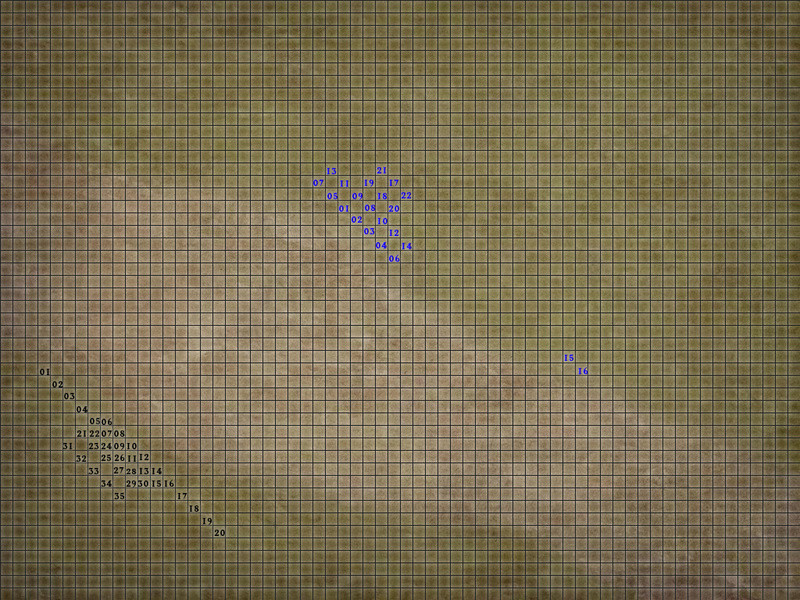 Geirmund Composition:

[01-03]Infantry, Trained (DM+6) Defence=7{Armor=8}, Morale=12{Endurance=4}, Fighting=4, Marksmanship=, Base Damage=5
[04]Infantry, Trained (DM+6) Defence=8{Armor=8}, Morale=15{Endurance=5}, Fighting=7, Base Damage=6
[05]Infantry, Trained (DM+6) Defence=7{Armor=8}, Morale=15{Endurance=5}, Fighting=5, Base Damage=5
[06-07]Crusader, Trained (DM+9) Defence=3{Armor=18}, Morale=15{Endurance=5}, Fighting=4, Base Damage=5
[08]Archer, Trained (DM+9) Defence=9{Armor=2}, Morale=6{Endurance=2}, Fighting=2, Marksmanship=5, Base Damage=1//6
[09-10]Archer, Trained (DM+9) Defence=9{Armor=2}, Morale=6{Endurance=2}, Fighting=2, Marksmanship=4, Base Damage=1//6
[11-12]Dwarven Thunderers, Trained (DM+6) Defence=7{Armor=2}, Morale=12{Endurance=4}, Fighting=2, Marksmanship=4, Base Damage=2//3
[13]Engineers, Veteran (DM+6) Defence=5{Armor=2}, Morale=15{Endurance=5}, Fighting=5, Warfare=6, Base Damage=1//3
[14]Engineers, Veteran (DM+6) Defence=5{Armor=2}, Morale=18{Endurance=6}, Fighting=5, Warfare=5, Base Damage=1//3
[15]Cavalry, Trained (DM+3) Defence=4{Armor=10}, Morale=6{Endurance=2}, Fighting=6, Animal Handling=6, Base Damage=5
[16]Cavalry, Trained (DM+3) Defence=4{Armor=10}, Morale=6{Endurance=2}, Fighting=5, Animal Handling=6, Base Damage=5
[17]Personal Guard, Trained (DM+0) Defence=3{Armor=20}, Morale=12{Endurance=4}, Fighting=4, Base Damage=5
[18]Kampfwagon, Green (DM+12) Defence=6{Armor=2}, Health=40, Fighting=3, Marksmanship=3, Warfare=4, Base Damage=5//4
{Armed with Small Steam Cannon} Base Damage=5
[19]Kampfwagon, Green (DM+12) Defence=6{Armor=2}, Health=40, Fighting=3, Marksmanship=3, Warfare=4, Base Damage=5//4
{Armed with Scorpion} Base Damage=3 (Ignores Armor)
[20]Kampfwagon, Green (DM+12) Defence=6{Armor=2}, Health=40, Fighting=3, Marksmanship=3, Warfare=4, Base Damage=5//4
{Armed with Centipede} Base Damage=1 (Ignores Armor)
[21-22]Support, Trained (DM+6) Defence=6{Armor=0}, Morale=12{Endurance=4}, Fighting=2, Animal Handling=3, Healing=5, Base Damage=1
[C]Thrand, Veteran Defence=0{Armor=20}, Morale=6{Endurance=2}, Fighting=7, Warfare=7, Command=6, Base Damage=3
{With Geirmund[17]}
Undead Composition:

[01-20]Undead Defence=6{Armor=5}, Morale=9{Endurance=3}, Fighting=3, Base Damage=3
[21-30]Undead Defence=8{Armor=2}, Morale=6{Endurance=2}, Fighting=2, Marksmanship=3, Base Damage=1//6
[31-35]Undead Defence=6{Armor=10}, Morale=9{Endurance=3}, Fighting=3, Base Damage=5
[N]Necromancer, Veteran Defence=0{Armor=10}, Morale=6{Endurance=2}, Fighting=2, Warfare=3, Command=11, Base Damage=3
{With Undead[33]}
Upon the craggy border of House Snorri's lands is a cemetery where most of the bodies have been exhumed.  There is appreciable cloud coverage and recent rainfall has made the churned up ground muddy and hard to traverse.
Effects wrote:Movement is reduced by 20 yards.
OOC wrote:Each block represents 20 yards.


Last edited by SilverDragonRed on Wed May 24, 2017 1:36 pm; edited 1 time in total