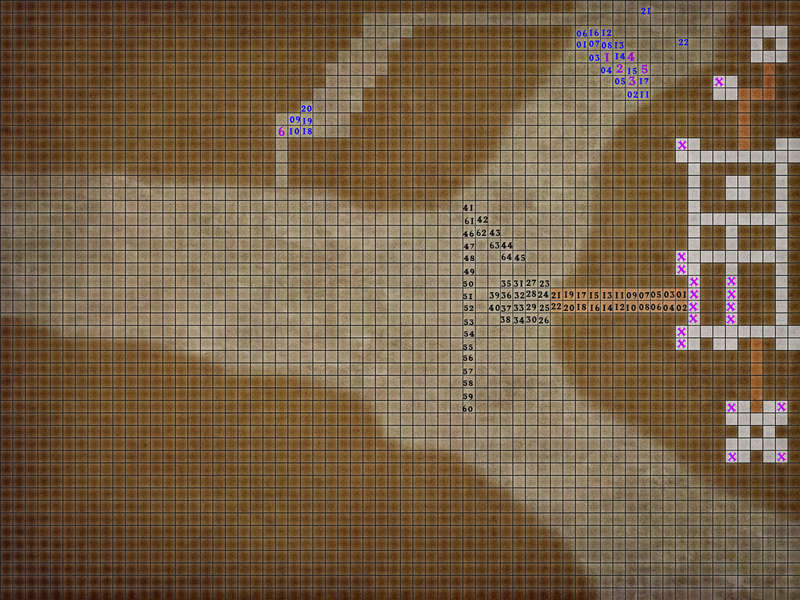 Allied Composition:

Adalwulf:

[1,2,3]Infantry, Trained (DM+6) Defence=11{Armor=3}, Morale=9{Endurance=3}, Fighting=2, Base Damage=8
[4,5]Archers, Veteran (DM+6) Defence=14{Armor=2}, Morale=6{Endurance=2}, Fighting=2, Marksmanship=5, Base Damage=1//9
[6]Cavalry, Elite (DM-3) Defence=6{Armor=5}, Morale=6{Endurance=2}, Fighting=12, Animal Handling=3, Base Damage=5
[C]Commander, Green Defence=3{Armor=6}, Morale=6{Endurance=2}, Fighting=2, Warfare=2, Command=4, Base Damage=3
{With Adalwulf[6]}

Geirmund:

[01]Infantry, Trained (DM+6) Defence=7{Armor=8}, Morale=15{Endurance=5}, Fighting=6, Base Damage=6
[02]Infantry, Trained (DM+6) Defence=6{Armor=8}, Morale=15{Endurance=5}, Fighting=5, Base Damage=5
[03-05]Infantry, Trained (DM+6) Defence=6{Armor=8}, Morale=12{Endurance=4}, Fighting=4, Base Damage=5
[06-07]Crusader, Trained (DM+9) Defence=3{Armor=18}, Morale=15{Endurance=5}, Fighting=5, Base Damage=5
[08]Personal Guard, Trained (DM+0) Defence=3{Armor=20}, Morale=12{Endurance=4}, Fighting=4, Base Damage=5
[09-10]Cavalry, Trained (DM+3) Defence=4{Armor=10}, Morale=6{Endurance=2}, Fighting=6, Animal Handling=6, Base Damage=5
[11]Archer, Trained (DM+9) Defence=9{Armor=2}, Morale=6{Endurance=2}, Fighting=2, Marksmanship=5, Base Damage=1//6
[12-13]Archer, Trained (DM+9) Defence=9{Armor=2}, Morale=6{Endurance=2}, Fighting=2, Marksmanship=4, Base Damage=1//6
[14-15]Dwarven Thunderers, Trained (DM+6) Defence=8{Armor=2}, Morale=12{Endurance=4}, Fighting=2, Marksmanship=5, Base Damage=2//5
[16]Engineer, Veteran (DM+6) Defence=5{Armor=2}, Morale=15{Endurance=5}, Fighting=5, Warfare=6, Base Damage=1//3
[17]Engineer, Veteran (DM+6) Defence=5{Armor=2}, Morale=18{Endurance=6}, Fighting=5, Warfare=5, Base Damage=1//3
[18]Kampfwagon, Green (DM+12) Defence=6{Armor=2}, Health=40, Fighting=3, Marksmanship=3, Warfare=4, Base Damage=5//4
{Armed with Small Steam Cannon} Base Damage=5
[19]Kampfwagon, Green (DM+12) Defence=6{Armor=2}, Health=40, Fighting=3, Marksmanship=3, Warfare=4, Base Damage=5//4
{Armed with Scorpion} Base Damage=3 (Ignores Armor)
[20]Kampfwagon, Green (DM+12) Defence=6{Armor=2}, Health=40, Fighting=3, Marksmanship=4, Warfare=4, Base Damage=5//4
{Armed with Centipede} Base Damage=1 (Ignores Armor)
[21-22]Support, Trained (DM+9) Defence=6{Armor=0}, Morale=12{Endurance=4}, Fighting=2, Animal Handling=4, Healing=6, Base Damage=1
[C]Commander, Veteran Defence=0{Armor=20}, Morale=6{Endurance=2}, Fighting=7, Warfare=7, Command=6, Base Damage=3
{With Geirmund[08]}
Undead Composition:

[01-40]Undead Defence=10{Armor=0}, Health=40, Fighting=3, Base Damage=3
[41-60]Undead Defence=6{Armor=5}, Health=50, Fighting=3, Base Damage=3
[61-64]Undead Defence=8{Armor=2}, Health=40, Fighting=2, Marksmanship=3, Base Damage=1//6
[N]Necromancer, Trained Defence=0{Armor=10}, Morale=6{Endurance=2}, Fighting=2, Warfare=2, Command=11, Base Damage=3
{With Undead[43]}
[N1]Necromancer, Trained Defence=0{Armor=10}, Morale=6{Endurance=2}, Fighting=7, Warfare=3, Command=7, Base Damage=3
{With Undead[24]}
[N2]Necromancer, Veteran Defence=0{Armor=10}, Morale=6{Endurance=2}, Fighting=8, Warfare=3, Command=7, Base Damage=3
{With Undead[25]}
House Adalwulf called for help from House Geirmund in fighting off the undead menace attacking their last stronghold.  Their Commander leads the cavalry and kampfwagons through a secret pass to get behind the undead while the others approach from a flank.
The sky is a bit cloudy, but has no effect on the battlefield.  There hasn't been any rain in quite some time to soften up the ground.
OOC wrote:Each block represents 20 yards.